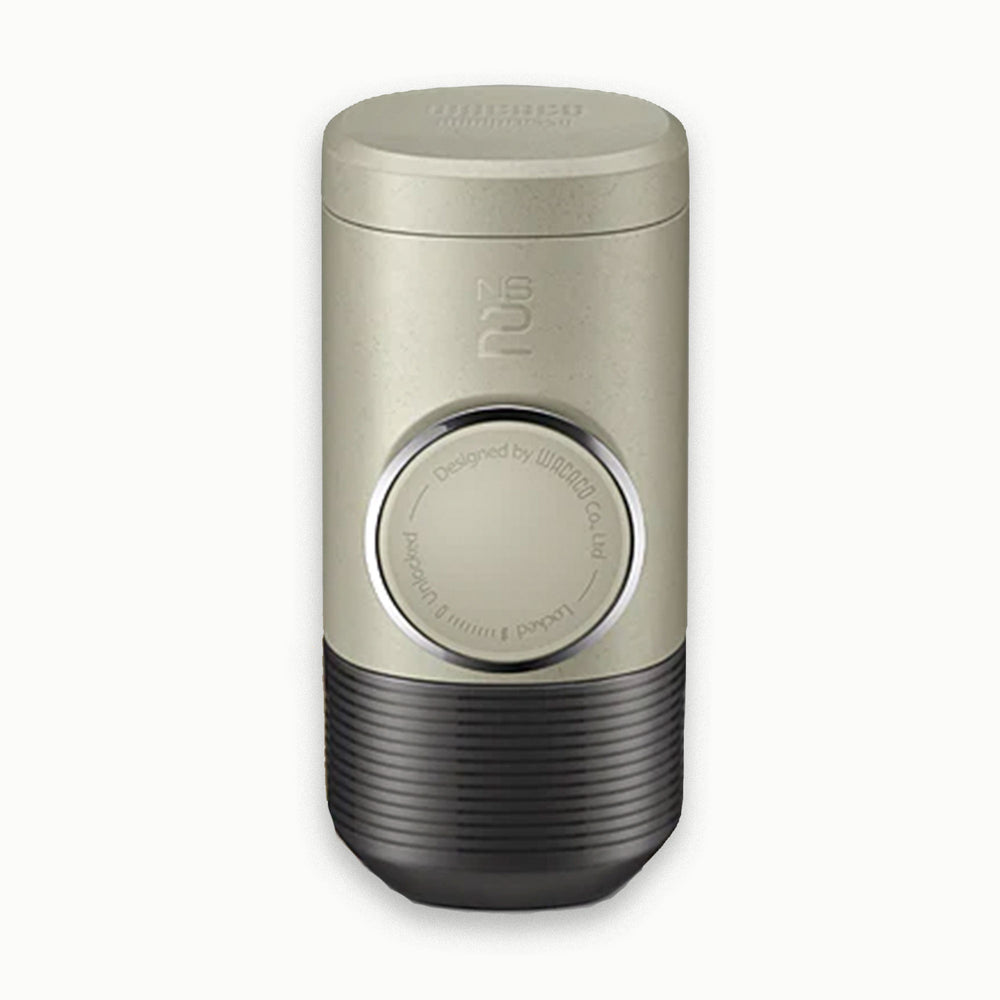 WACACO Minipresso NS2 - For Coffee Pods
WACACO Minipresso NS2 Portable Espresso Maker - For use with Coffee Pods The Wacaco Minipresso NS2 uses Nespresso-compatible pods to prepare espresso. The advantage is that Read more
About WACACO Minipresso NS2 - For Coffee Pods
WACACO Minipresso NS2 Portable Espresso Maker - For use with Coffee Pods
The Wacaco Minipresso NS2 uses Nespresso-compatible pods to prepare espresso. The advantage is that the coffee is ground, measured, and tamped, with higher precision than we are capable of doing. There is very little left for error, so your espresso is great every time. This portable espresso machine is also more convenient, mess free, and easy to clean after use. Minipresso NS2 is your best choice to quickly enjoy up to 45 ml of delicious espresso at home, in the office, and on the go.

Manually Operated - No electricity, no battery required. Add hot water into the water tank. Unlock the piston from its travel position and pump a few strokes to pressurize and extract delicious espresso
Dimensions: 129mm x 70mm x 60mm
Weight: 290g
Water capacity: 80ml
Average pressure: 18 bar
Cleaning brush and built-in espresso cup
Warranty: 1 year
Free delivery on orders over £25
Roasted fresh to every order 🔥
Dispatched next working day ⚡
100% recyclable packaging ✌️
Delivery information
Roasted & dispatched the next working day with Royal Mail Tracked service.

£0 - £9 = £2.65
£9 - £20 = £3.35
£20 - £25 = £3.65
£25+ = Free UK Shipping
Join our coffee club
And get the newest coffees delivered straight to you every month!
How our subscribe & save works;
You have complete control...
Change products, delivery dates or cancel with the click of a button.
No unexpected deliveries or charges...
We'll send you an e-mail before every delivery in case you want to change anything.
10% off all orders...
We'll reward your commitment to great coffee with a 10% discount on every order.