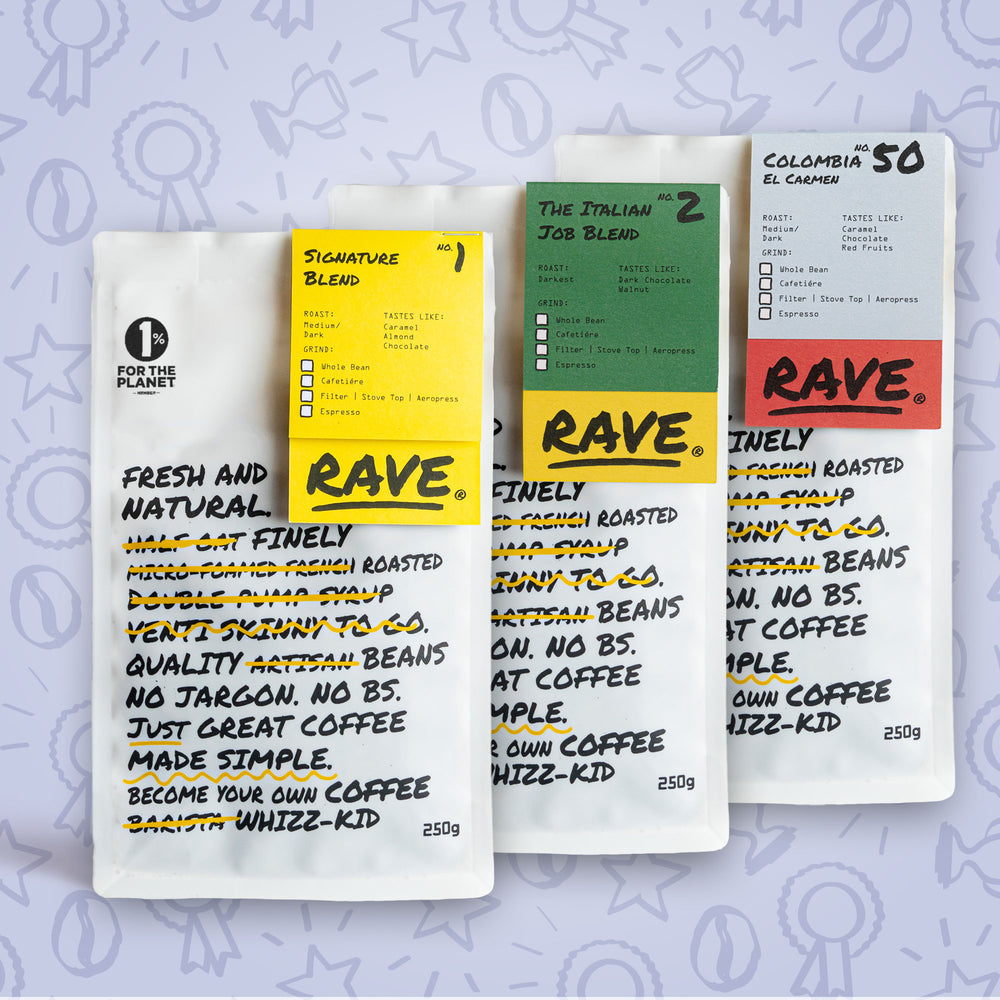 Best Selling Coffee Bundle
If you are new to Rave then this bundle is a great place to start, 3 x 250g bags of our top selling coffee. Signature Blend Read more
About Best Selling Coffee Bundle
If you are new to Rave then this bundle is a great place to start, 3 x 250g bags of our top selling coffee.
Signature Blend - Medium/Dark Roast
(Chocolate and Caramel flavours, great as a flat white or Piccolo)
Colombia El Carmen - Medium/Dark Roast 
(Chocolate/caramel overtones and a muted red fruit acidity. Great body and lingering aftertaste) 
The Italian Job - Dark Roast
(Slightly stronger with chocolate and a nutty finish)
.
Mycotoxin In Coffee
We sent a sample of our Colombia El Carmen 
coffee away for Mycotoxin testing and it came back with a result of less than 
0.1 parts per billion
 of all tested toxins. This is great news, but technically relates to the specific batch and specific green lot that we sent away. We'll be testing again soon and will publish those results here.
Free delivery on orders over £25 🙌
Roasted fresh to every order 🔥
Dispatched next working day 📦
100% recyclable packaging 🟢
Delivery information
Roasted & dispatched the next working day with Royal Mail Tracked service.

£0 - £9 = £2.65
£9 - £20 = £3.35
£20 - £25 = £3.65
£25+ = Free UK Shipping
Join our coffee club
And get the newest coffees delivered straight to you every month!
How our subscribe & save works;
You have complete control...
Change products, delivery dates or cancel with the click of a button.
No unexpected deliveries or charges...
We'll send you an e-mail before every delivery in case you want to change anything.
10% off all orders...
We'll reward your commitment to great coffee with a 10% discount on every order.