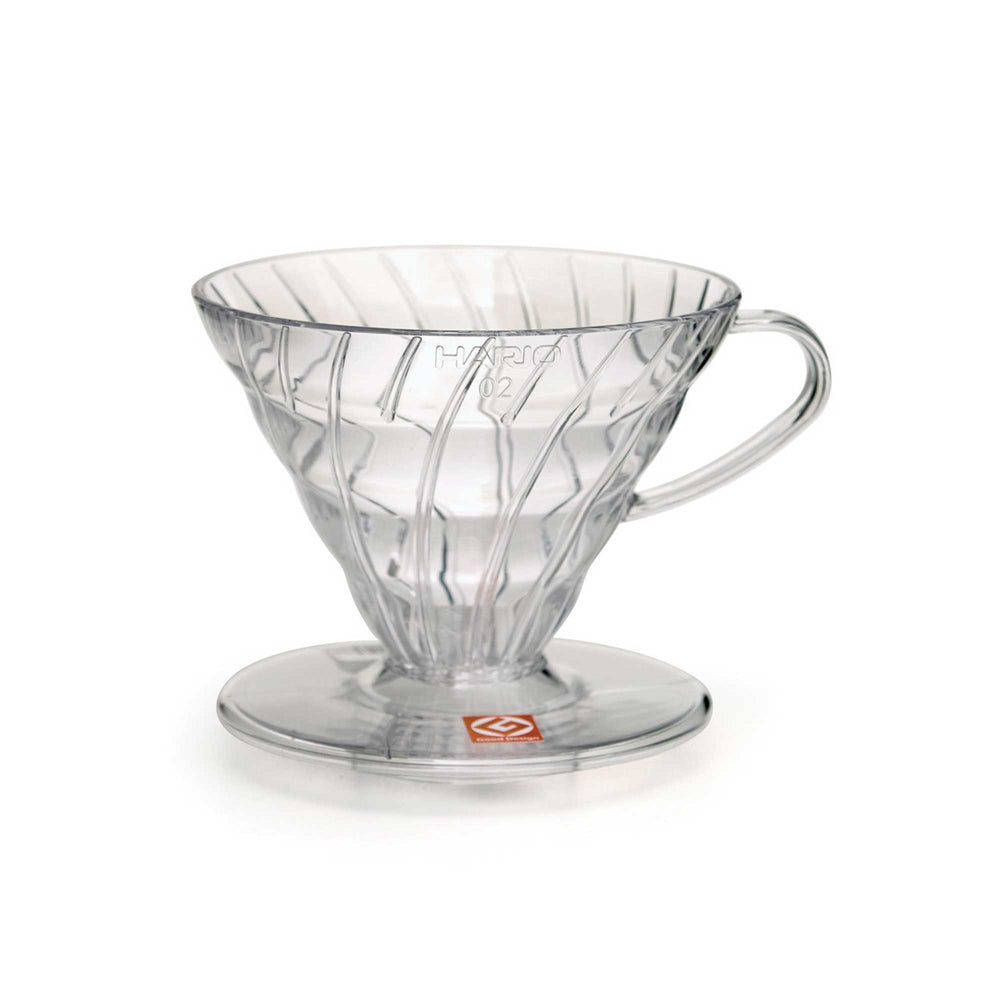 Hario V60 Clear Plastic Coffee Dripper Size 02
Brewed coffee. Clean, easy to use and tasty. Whether you are a world champion barista or a coffee enthusiast at home, the V60 coffee Read more
About Hario V60 Clear Plastic Coffee Dripper Size 02
Brewed coffee. Clean, easy to use and tasty.
Whether you are a world champion barista or a coffee enthusiast at home, the V60 coffee dripper brews your favourite coffee quickly, easily and without the mess. The plastic v60 dripper is lightweight and ideal for travelling, as well as being durable and easy to clean. 
Coffee dripper design.
The reason the V60 coffee dripper is so popular amongst professional baristas and coffee connoisseurs is simple – it makes delicious, clean and repeatable coffee every time.
The 60° brewing angle allows the water to flow evenly through the coffee resulting in a perfect coffee extraction. The exit hole of the dripper, is larger than normal, giving you control of the water flow, allowing you to brew the coffee just as you like it. 
V60 Dripper Includes :
1x Hario V60 clear plastic dripper
Size 02 
Plastic lightweight body
Durable
Capacity for 1 to 4 cups
Box with a manual
Measuring spoon
Part Number VD-02T
Don't forget coffee filters for V60-02
Free delivery on orders over £25 🙌
Roasted fresh to every order 🔥
Dispatched next working day 📦
100% recyclable packaging 🟢
Delivery information
Roasted & dispatched the next working day with Royal Mail Tracked service.

£0 - £9 = £2.65
£9 - £20 = £3.35
£20 - £25 = £3.65
£25+ = Free UK Shipping
Join our coffee club
And get the newest coffees delivered straight to you every month!
How our subscribe & save works;
You have complete control...
Change products, delivery dates or cancel with the click of a button.
No unexpected deliveries or charges...
We'll send you an e-mail before every delivery in case you want to change anything.
10% off all orders...
We'll reward your commitment to great coffee with a 10% discount on every order.