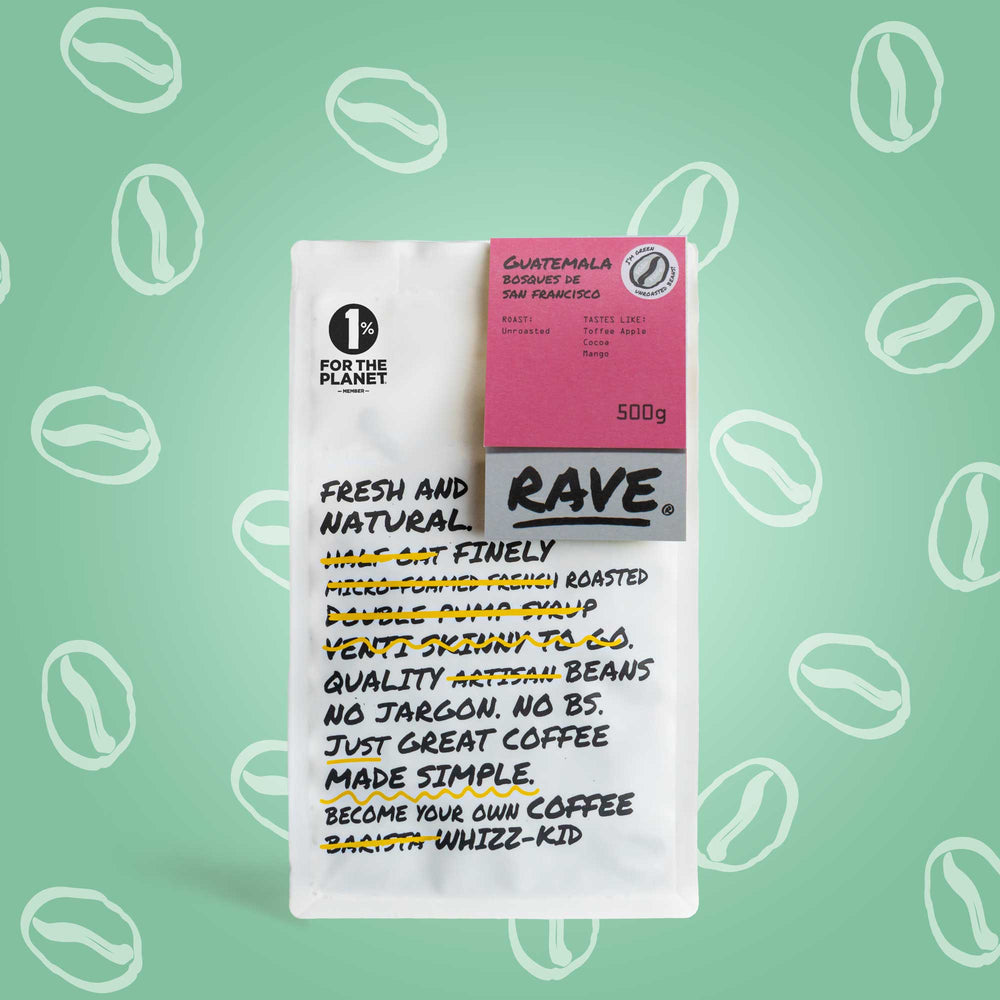 Guatemala Bosques de San Francisco Green Coffee Beans
500g - Unroasted coffee beans suitable for home roasting Read more
About Guatemala Bosques de San Francisco Green Coffee Beans
500g - Unroasted coffee beans suitable for home roasting
Free delivery on orders over £25
Roasted fresh to every order 🔥
Dispatched next working day ⚡
100% recyclable packaging ✌️
Delivery information
Roasted & dispatched the next working day with Royal Mail Tracked service.

£0 - £9 = £2.65
£9 - £20 = £3.35
£20 - £25 = £3.65
£25+ = Free UK Shipping
Join our coffee club
And get the newest coffees delivered straight to you every month!
How our subscribe & save works;
You have complete control...
Change products, delivery dates or cancel with the click of a button.
No unexpected deliveries or charges...
We'll send you an e-mail before every delivery in case you want to change anything.
10% off all orders...
We'll reward your commitment to great coffee with a 10% discount on every order.
ANTIGUA, GUATEMALA
Producers
The Dalton Family
Varietals
Bourbon, Caturra
The Dalton family honours its coffee growing heritage and is currently being operated by the 5th and 6th generation. Coffee represents 214.64 hectares of the entire farm. Like most farms in Guatemala, Finca Filadelfia (of which Bosques de San Francisco is 1/4) originally harvested cochinille. In 1864 it transitioned to coffee amidst a country wide recession. Cochinille was used to produce a natural fabric dye colour "Carmine." As the industrial revolution evolved, Germany developed synthetic dyes removing the need for the natural carmine colour. Farms across Guatemala faced a devastating recession. Manuel Matheu (Marta's great great great grandfather) borrowed the land at Filadelfia initially where he planted some coffee in 1864. In his first harvest he went to London to sell his first crop. After returning from London, he was commissioned by the President of Guatemala to show small farmers how to grow coffee. Thus was born the Antigua coffee growing region. Eventually Manuel's son purchased what is now Finca Filadelfia. The passion for coffee has been passed down 6 generations. Marta's great grandmother Elisa ran the farm until she was 95 years old and won the first two Cup of Excellence in 2001 and 2002.