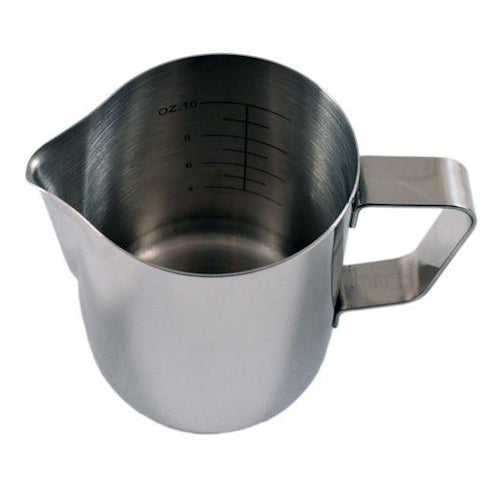 Milk Steaming Jug or Pitcher 12 OZ/ 350ml - 0.35 Litre
A best selling milk frothing jug or pitcher. High quality stainless steel, designed to make milk pouring as easy as possible. Etched on both Read more
About Milk Steaming Jug or Pitcher 12 OZ/ 350ml - 0.35 Litre
A best selling milk frothing jug or pitcher. High quality stainless steel, designed to make milk pouring as easy as possible. Etched on both sides for right and left handed pouring. Perfect for latte art.
Product features
• Brand: Yagua
• Material: Stainless Steel
• Finish: Mirror polish
• Size: 350ml
• Size: 12oz
• Lined to: 10oz from 4 in 2oz increments


Free delivery on orders over £25 🙌
Roasted fresh to every order 🔥
Dispatched next working day 📦
100% recyclable packaging 🟢
Delivery information
Roasted & dispatched the next working day with Royal Mail Tracked service.

£0 - £9 = £2.65
£9 - £20 = £3.35
£20 - £25 = £3.65
£25+ = Free UK Shipping
Join our coffee club
And get the newest coffees delivered straight to you every month!
How our subscribe & save works;
You have complete control...
Change products, delivery dates or cancel with the click of a button.
No unexpected deliveries or charges...
We'll send you an e-mail before every delivery in case you want to change anything.
10% off all orders...
We'll reward your commitment to great coffee with a 10% discount on every order.