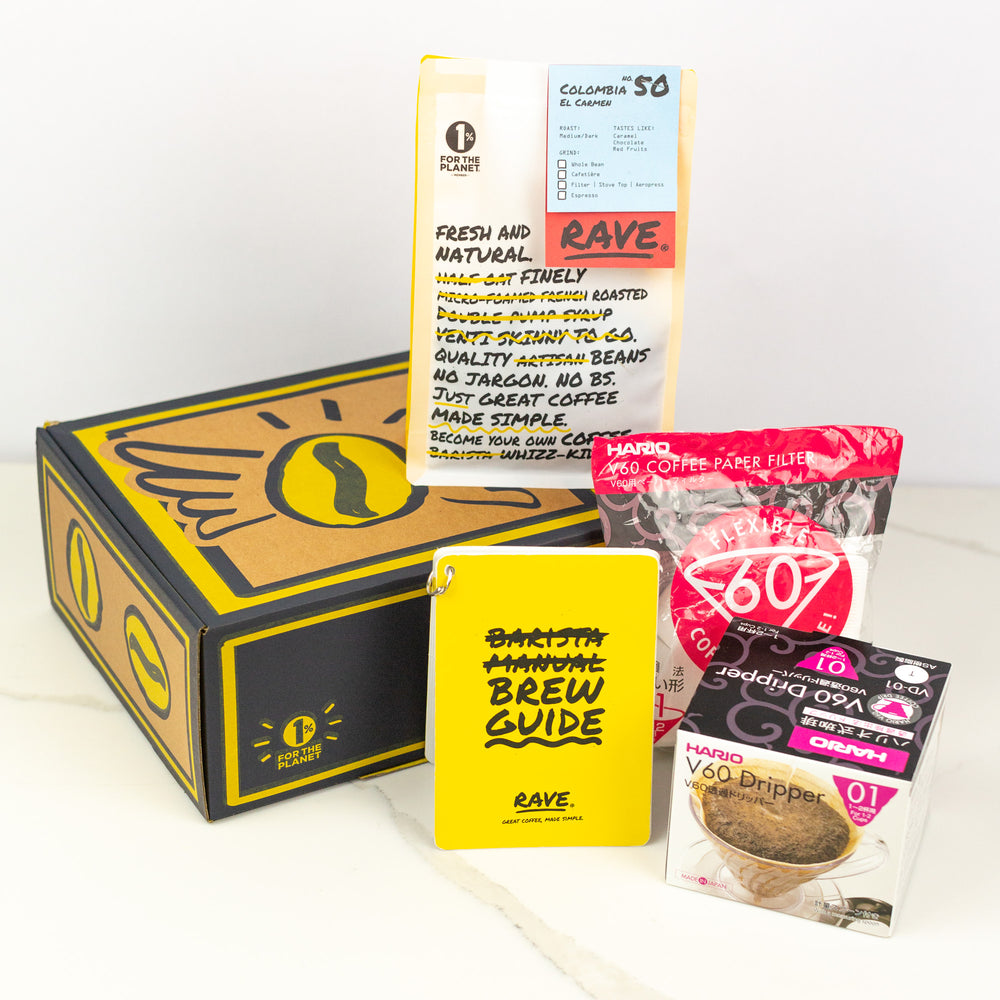 V60 Dripper Filter Coffee Gift Box
Inside this coffee lover's gift box you'll find all you need to make the make the perfect delicious cup of coffee. The Plastic V60 dripper allows you Read more
About V60 Dripper Filter Coffee Gift Box
Inside this coffee lover's gift box you'll find all you need to make the make the perfect delicious cup of coffee.
The Plastic V60 dripper allows you to make and enjoy a beautiful coffee quickly and easily. Whether it's at home or in the office.
The legendary Hario v60 cone design is truly special because of the trifecta combination. The 60 degrees angle, large hole in the middle and spiral ridges all combine to produce a remarkable cup of coffee that you'll love. 
Gift box contains
1 x Rave Coffee 250g of Fresh Roasted Seasonal Coffee (Choose whole bean or ground)

1 x Hario Clear V60 Plastic Dripper (includes scoop)

1 x Hario V60 Coffee Filter Papers 100 sheets 

1 x Rave Brew Guide
Free delivery on orders over £25 🙌
Roasted fresh to every order 🔥
Dispatched next working day 📦
100% recyclable packaging 🟢
Delivery information
Roasted & dispatched the next working day with Royal Mail Tracked service.

£0 - £9 = £2.65
£9 - £20 = £3.35
£20 - £25 = £3.65
£25+ = Free UK Shipping
Join our coffee club
And get the newest coffees delivered straight to you every month!
How our subscribe & save works;
You have complete control...
Change products, delivery dates or cancel with the click of a button.
No unexpected deliveries or charges...
We'll send you an e-mail before every delivery in case you want to change anything.
10% off all orders...
We'll reward your commitment to great coffee with a 10% discount on every order.