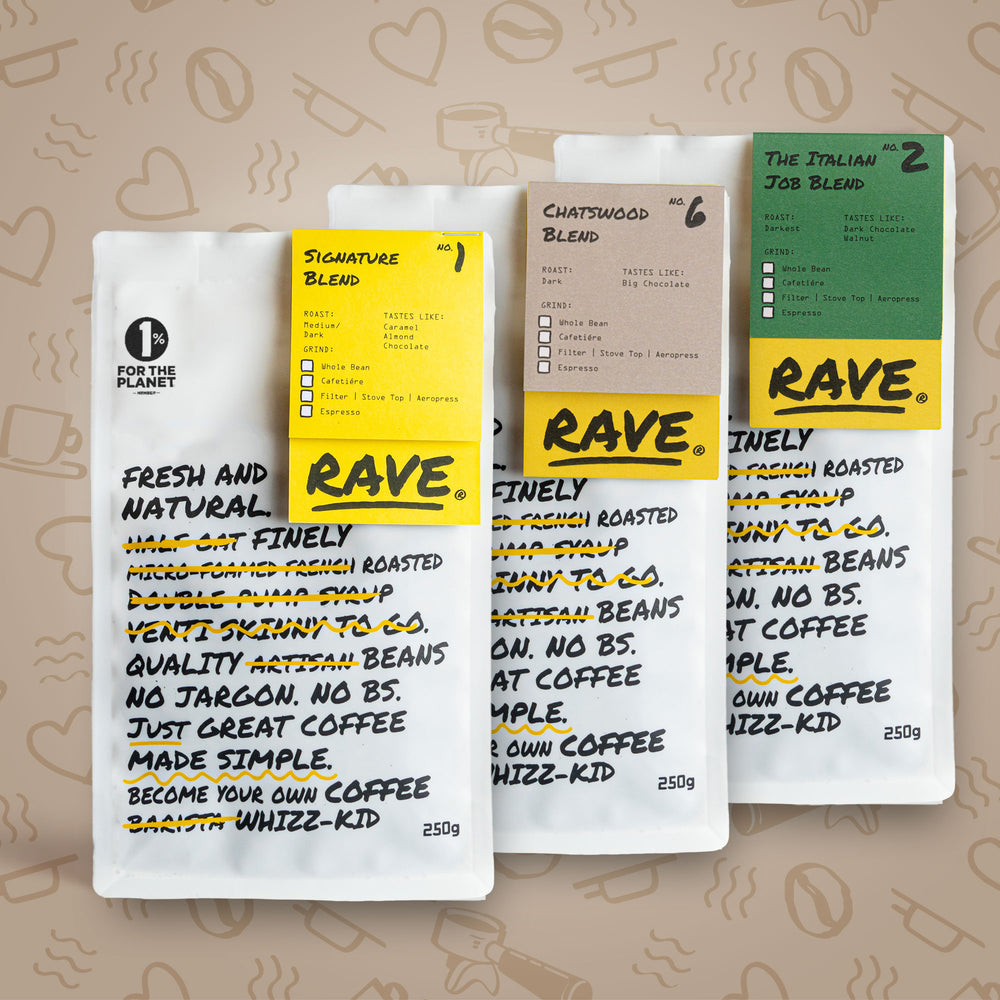 Espresso Lover Coffee Bundle
Our coffee blend best sellers, bundled together, perfect for the milk based espresso heads amongst you. 1 x 250g of our old faithful, Signature Blend - Read more
About Espresso Lover Coffee Bundle
Our coffee blend best sellers, bundled together, perfect for the milk based espresso heads amongst you.
1 x 250g of our old faithful, Signature Blend - Medium/Dark Roast
(Chocolate and Caramel flavours, great as a flat white or Piccolo)
1 x 250g of The Italian Job - Dark Roast
(Slightly stronger with chocolate and a nutty finish)
1 x 250g of Chatswood Blend - Dark Roast
(Dark Chocolate, hints of tangerine acidity) 
Use whole milk in your espresso drinks to give a beautiful rich silky finish.
Disclaimer - Contents subject to change.  We vary the coffees on offer due to seasonal availability and new crop arrivals.
Free delivery on orders over £25
Roasted fresh to every order 🔥
Dispatched next working day ⚡
100% recyclable packaging ✌️
Delivery information
Roasted & dispatched the next working day with Royal Mail Tracked service.

£0 - £9 = £2.65
£9 - £20 = £3.35
£20 - £25 = £3.65
£25+ = Free UK Shipping
Join our coffee club
And get the newest coffees delivered straight to you every month!
How our subscribe & save works;
You have complete control...
Change products, delivery dates or cancel with the click of a button.
No unexpected deliveries or charges...
We'll send you an e-mail before every delivery in case you want to change anything.
10% off all orders...
We'll reward your commitment to great coffee with a 10% discount on every order.