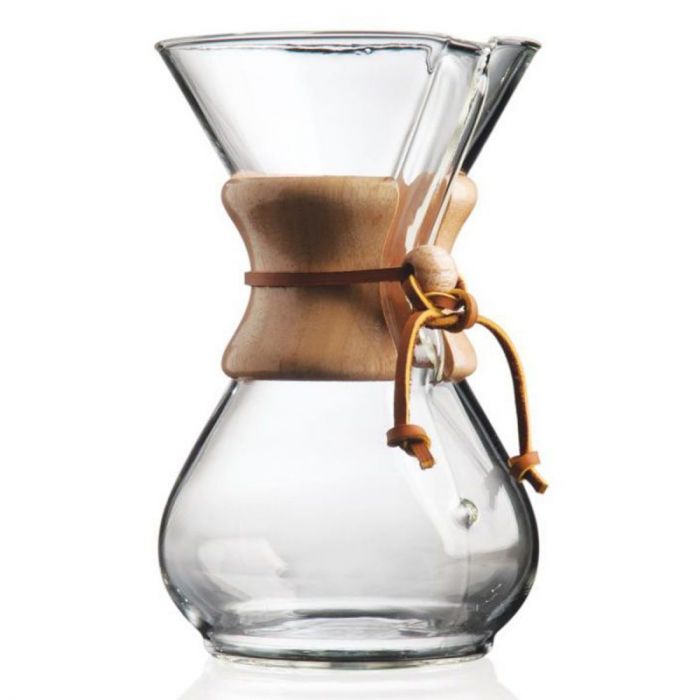 The Chemex brewer is iconic for a reason. The single glass piece doesn't just look elegant, it also brews coffee without imparting any flavours Read more
About Chemex (6 Cup) Classic
The Chemex brewer is iconic for a reason. The single glass piece doesn't just look elegant, it also brews coffee without imparting any flavours of its own, creating clear, pure, flavourful coffee without bitterness or sediment.
An excellent home brewer. Includes a polished wood collar and leather tie which serve as an insulated handle.
Product features: 
Material: non-porous, heat-resistant borosilicate glass
Size: 6-cup
Capacity: 885ml
Filter: Chemex Square Paperfilters (not included)
Includes a polished wood collar with leather tie
Dimensions: H: 209.5 x Dia: 130mm
Free delivery on orders over £25
Roasted fresh to every order 🔥
Dispatched next working day ⚡
100% recyclable packaging ✌️
Delivery information
Roasted & dispatched the next working day with Royal Mail Tracked service.

£0 - £9 = £2.65
£9 - £20 = £3.35
£20 - £25 = £3.65
£25+ = Free UK Shipping
Join our coffee club
And get the newest coffees delivered straight to you every month!
How our subscribe & save works;
You have complete control...
Change products, delivery dates or cancel with the click of a button.
No unexpected deliveries or charges...
We'll send you an e-mail before every delivery in case you want to change anything.
10% off all orders...
We'll reward your commitment to great coffee with a 10% discount on every order.