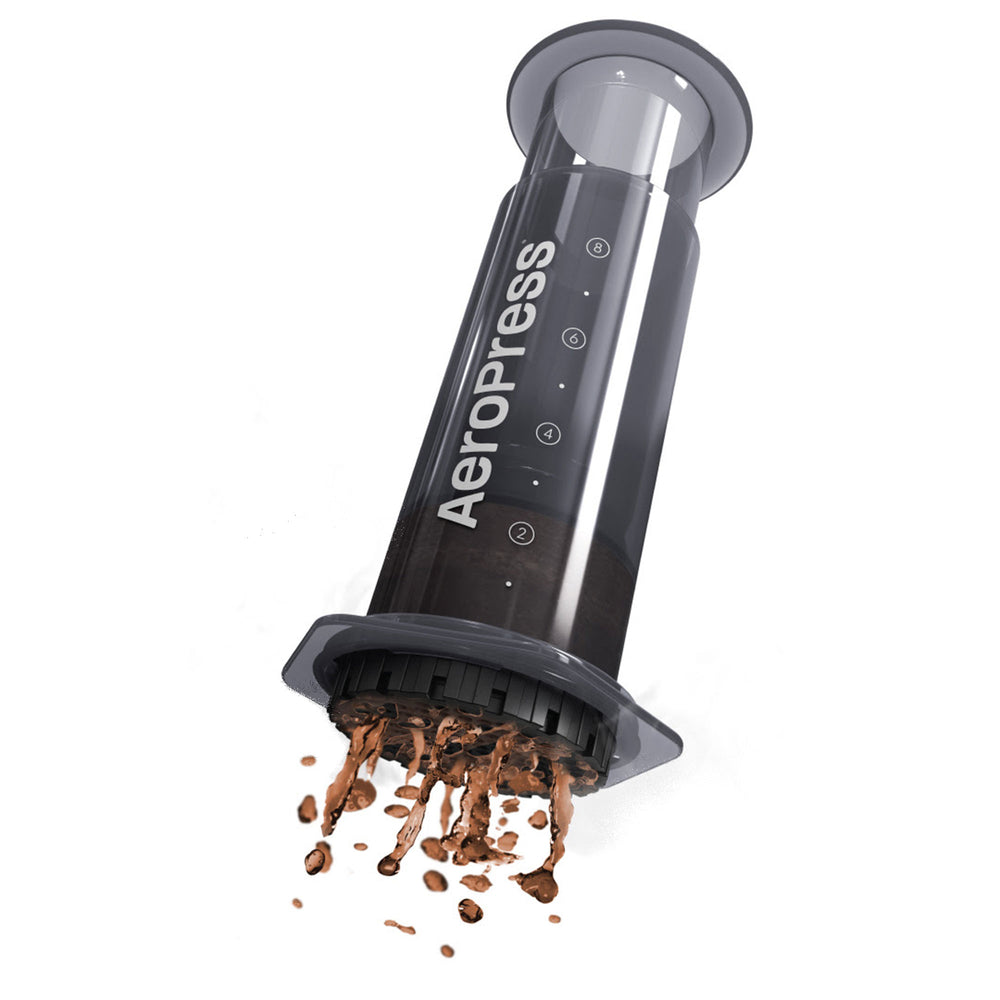 AeroPress Coffee Maker XL
The iconic AeroPress, supersized! Made with the same patented technology, now with double the capacity. Includes a 20 oz carafe made of crystal-clear shatterproof Read more
About AeroPress Coffee Maker XL
The iconic AeroPress, supersized! Made with the same patented technology, now with double the capacity. Includes a 20 oz carafe made of crystal-clear shatterproof Tritan™.
3-in-1 brew technology combines the best of several brew methods into one easy-to-use, very portable device. No more average joe from fancy, expensive machines. Smooth, rich, grit-free coffee with a delicious, full-bodied finish that lingers well after your last sip.
WHAT'S INCLUDED:
AeroPress XL Chamber, Plunger, Filter Cap & Seal
AeroPress Carafe: Crystal clear, shatterproof, lightweight, and made with Tritan™.
Paper Micro-Filters: Includes 100 replacement AeroPress XL paper micro-filters.
Stirrer: Designed to be the perfect length for the AeroPress XL.
Scoop: Scoop measures just the right amount of coffee for delicious, easy AeroPress recipes.
Free delivery when you spend over £25

Dispatched next working day

Roasted fresh to every order

Our packaging is completely recycable
Delivery information
Roasted & dispatched the next working day with Royal Mail Tracked service.

Order Value
£0 - £9 = £2.65
£9 - £24.99 = £2.95
£25+ = Free UK Shipping

Join our coffee club
And get the newest coffees delivered straight to you every month!
How our subscribe & save works;
You have complete control...
Change products, delivery dates or cancel with the click of a button.
No unexpected deliveries or charges...
We'll send you an e-mail before every delivery in case you want to change anything.
10% off all orders...
We'll reward your commitment to great coffee with a 10% discount on every order.
frequently asked questions
What is the Aeropress?
It's a brewing device for making filter coffee where coffee is steeped in a tube and then forced through a paper filter with a plunger.
What's the best coffee for Aeropress?
Try our Signature Blend or Colombia El Carmen.
Can you wash AeroPress coffee makers in the dishwasher?
Yes, you may put the AeroPress coffee maker in the dishwasher. The AeroPress is composed of BPA-free plastic that can resist dishwashing temperatures and water pressure. However, it is recommended that only the chamber and plunger components of the AeroPress be washed in the dishwasher, and that the other pieces, including the filters and cap, be hand washed. It is also crucial to remember that cleaning the AeroPress after each use with soap and water will help maintain its quality and extend its lifespan.
Is Aeropress coffee like espresso?
Espresso is ground coffee that has a layer of crema, which is a result of the pressure brewing process. The Aeropress method may not produce crema, as it is pressurised, but it is a long way off the 9 bar that would be considered espresso, not to mention the volumes are also different.
Do you need a good grinder for AeroPress?
The AeroPress works best with a decent grinder. A good grinder produces evenly sized coffee grounds, which maximise coffee flavour. At Rave Coffee, we recommend using a burr grinder. Burr grinders break coffee beans more evenly than blade grinders because they use two abrasive surfaces. This prevents coffee over- or under-extraction, which might affect taste. A good grinder doesn't need to be expensive or high-end. It should work with the AeroPress if it grinds consistently and finely.